In affiliate marketing, the borders are set only by you.
With Affiliabet's affiliate campaigns you can make your broadcast channels profitable thanks to commissions that you will charge for recommending your followers to become clients of our advertisers. Sports betting houses, poker, casino, bingo, Forex, binary trading, finance and much more.
At Affiliabet you will find a wide range of affiliate campaigns for both the Spanish market and the Latin American market (LATAM).
And it is that the betting houses and casinos are beginning their expansion in the Latin American market, carrying out a significant investment to implement affiliate marketing as a tool for their growth.
The sample of this interest is seen in sponsorships of leagues and soccer teams.
At Affiliabet we work to achieve the best agreements with advertisers that operate in the LATAM market; and thus guarantee the best profitability of your affiliate campaigns.
The Latin American market ranks third in terms of growth potential, behind Asia and the US And within Latin America, the countries with the best figures are Argentina, Mexico and Colombia.
Colombia was the first country to regulate online gambling in South America and, following its success, more countries are following in its footsteps. The Colombian market is one of the safest to work with affiliate marketing; because it is regulated through the operator Coljuegos, which establishes mandatory rules to grant licenses to operate; guaranteeing some standards to be met by the houses.
Characteristics of the LATAM market to take into account:

Market size: some 626 million people live in Latin America; it is also a practically virgin market, which makes it even more attractive.
Growth: Right now it has great growth potential as it is booming and advertisers are mobilizing to articulate affiliate campaigns to further open up the expansion.
Culture favorable to sports: sports are lived with great passion in Latin America and therefore affiliate campaigns for products related to sports or betting have a fairly high probability of success.
Exclusivity: generally, sports betting houses operate throughout the LATAM market, but some offer their products individually for some countries, such as Colombia or Mexico.
Because some countries have implemented their own gaming license, advertisers must comply with the particularities of each legislation in order to operate in that country.
How to choose your target for affiliate campaigns in LATAM.

To start affiliate campaigns in the LATAM market, you must first have an optimal volume of target audience among your followers.
Before looking for your target audience, start at the bottom; your website, blog or social networks where you are going to promote affiliate campaigns must attract your target, you must publish relevant and attractive content; and have regularity in your publications. Above all, think that you must have a traffic related to the affiliate campaigns that you are going to launch, so that there is a greater probability of conversion and you can really monetize your broadcast channels.
To choose your target audience, you should look at:
Your interests. People interested in sports in general and sports betting in particular should be your target.
Your language. If your content is in Spanish, you should focus on a Spanish-speaking audience to be more successful.
Your market. Start with a country or an area that you know well and then expand your horizons as you build up as many followers as possible.
Start launching your affiliate campaigns in strong markets, where the conversion is relatively easier and above all, make sure that your audience is really interested in sports betting.
If you already have broadcast channels with traffic from the LATAM market, register with Affiliabet and start making those channels profitable thanks to our affiliate campaigns. You will be able to earn high CPA commissions for each valid acquisition that you manage to make.
At Affiliabet, a wide variety of affiliate campaigns are waiting for you, with high returns, various types of commissions and the support of a team of professionals who provide you with a platform where affiliate marketing is easier than ever.
What are you waiting for to join the Affiliabet team?
Register, choose your campaign, publish the links and banners on your channels and wait for results.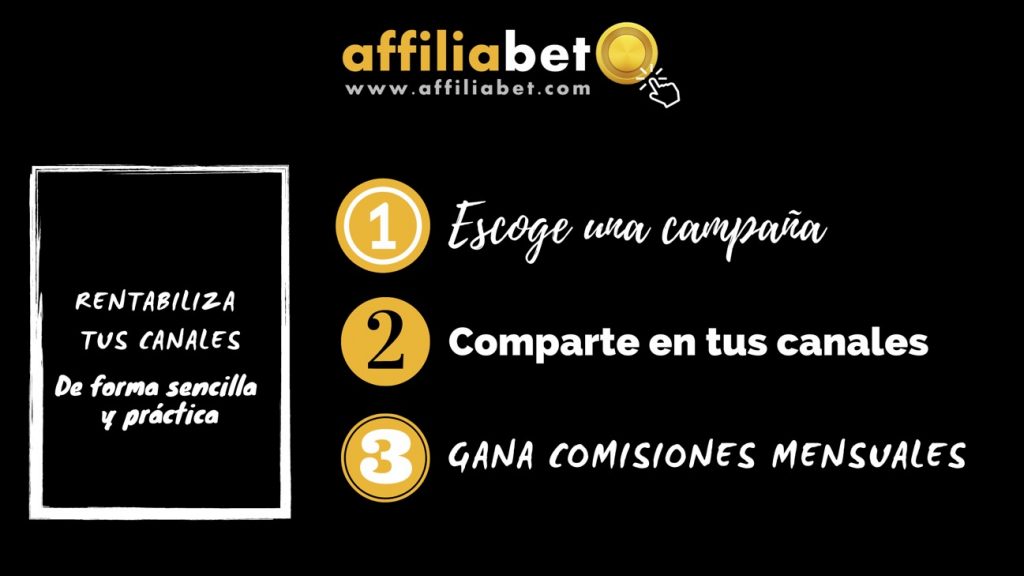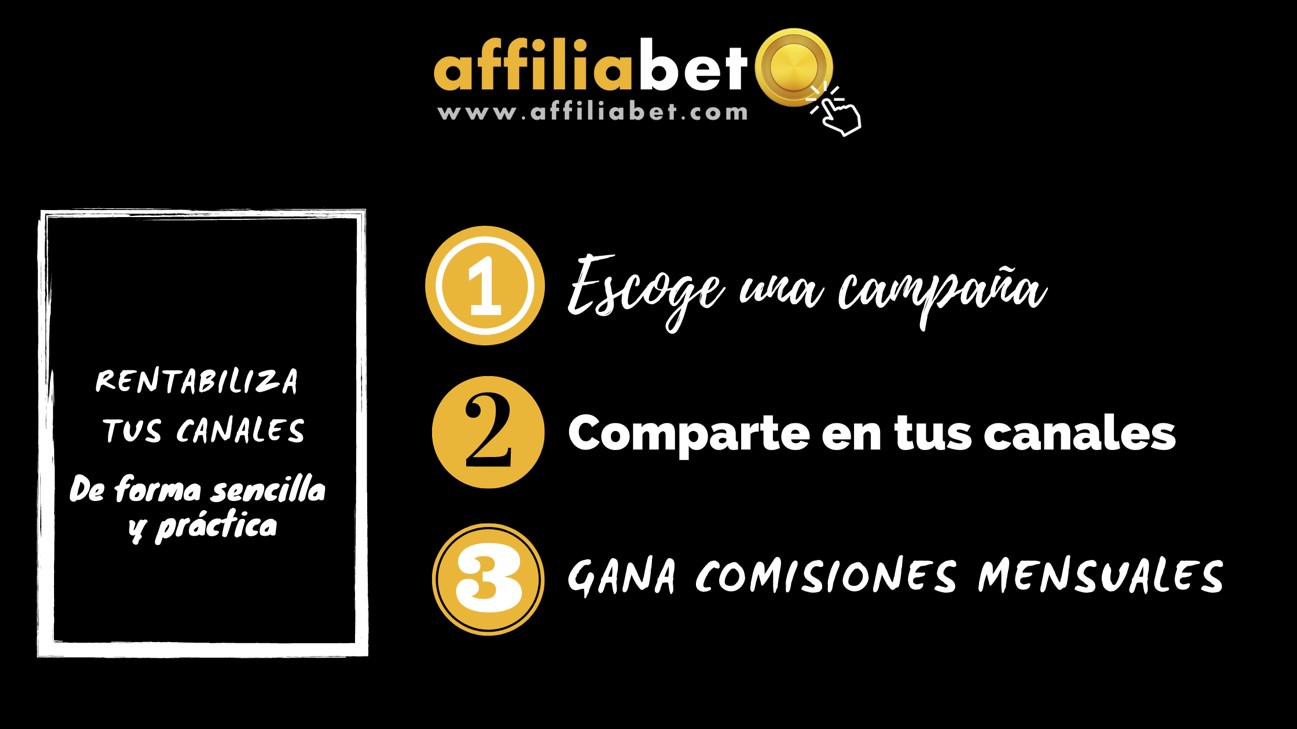 REGISTER TODAY AND RECEIVE A
10€ WELCOME BONUS