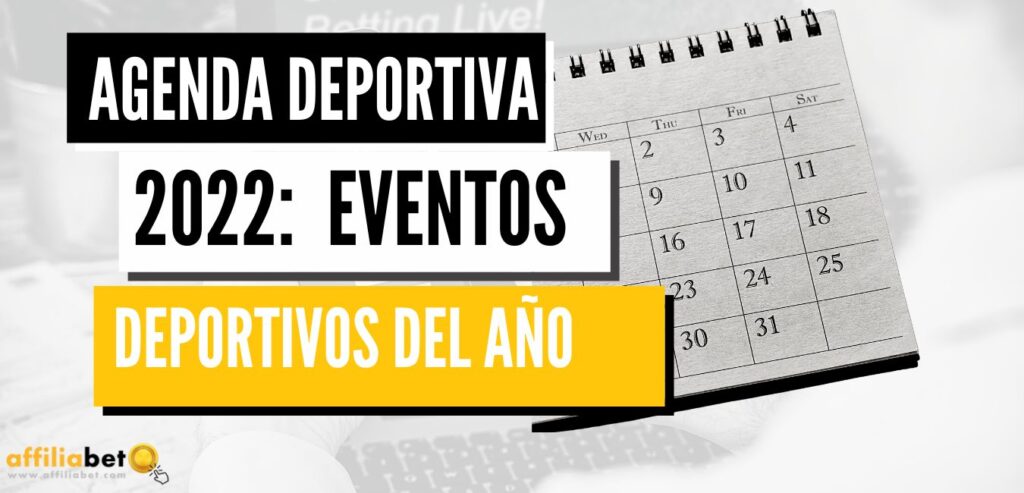 When we reach the halfway point of the year 2022, it is time to review all the options we have to make sport our great ally when it comes to identifying all the passive income that we can carry out. In this article we are going to review the 2022 sports agenda. With us, you will always have all the information related to the different elements that intervene at this time of year. Convinced that sports betting is one of the best options that we are going to be able to find in the market to be able to carry out all our movements, we now bring you a selection of events that will help you make the most of all the options you have .
Our 2022 sports planner is everything you need to pull off your favorite moves. In Affiliabet affiliate marketing, as you know, we are the number 1 manager of affiliate marketing in our country. Thanks to the options we have, we currently have a team of specialists who are constantly exploring all the options that exist to check which are the best events and the best sports practices to carry out all your movements in this scenario. Do not miss the opportunity to trust us and discover everything we can do for you.
24 Hours of Le Mans: This is the 63rd edition of one of the best-known races on the planet. We are talking about the 24 Hours of Le Mans. Which, this year, is scheduled for June 11 to 12. It takes place at the Circuit de la Sarthe, near Le Mans, in France.
US Golf Open: In this case, we travel to the 122nd edition of the US Golf Open, which is held, as its name suggests, in the USA. From June 16 to 19, 2022 is when we can attend all the matches of the US Open. It is considered one of the 4 majors in the world in this sport.
Wimbledon: And, how could it be otherwise, we cannot say goodbye to June without mentioning the 135th edition of the Wimbledon tennis championship. As always, it will take place in London (United Kingdom). The celebration is planned from June 27 to July 10.
Tour de France: 109th edition of the Tour de France. We can think of few competitions that are as famous as this one. It is a cycling competition in stages held throughout the French geography and other surrounding countries between July 1 and 24.
Women's Hockey World Cup: This July the XV Women's Field Hockey World Championship is celebrated. On this occasion, it will be held between July 1 and 17. And the characteristic of this edition is that it will not have a single venue. Rather, it will be held jointly in the cities of Tarrasa (Spain) and Amsterdam (Holland).
Vuelta a España: The month of August is, par excellence, the month of cycling in Spain. The reason is that we celebrate the 77th edition of the Vuelta Ciclista a España, a cycling competition that consists of 21 stages. In this case, the test is held between August 19 and September 11.
World Taekwondo Championship: The Chinese city of Wuxi will hold the 25th Absolute World Taekwondo Championship to be held at the end of 2022.
It is an edition in which it is expected to receive up to 130 countries from five continents, with around 30 athletes per country.
US Open: 142nd edition of the United States Tennis Open, which will take place from August 29 to September 11, 2022 in New York.
Copa Libertadores Final: Soccer lovers have one of their historic dates in October. This is the final of the 63rd Copa Libertadores de América that will take place on October 29. One of the matches that are most anticipated to achieve the coveted continental title.
World Cup: The 22nd edition of the FIFA World Cup (World Cup) will be held in the country of Qatar, as everyone already knows. The chosen dates are between November 21 and December 18.
Davis Cup: The Davis Cup final celebrates its 110th edition this year. It is celebrated from November 24 to December 4. The Davis Cup is an international tennis competition, which unlike most competitions, does not involve individual players but national teams made up of players who have been chosen by each national federation.
San Silvestre Vallecana: 45th edition of the San Silvestre Vallecana. December is the month of athletics par excellence. In this case, the 45th edition will be held in Madrid on Saturday, December 31. We are facing the most important popular race in Spain, in which the great international stars of the moment participate.
Short Course Swimming World Championship: The 16th Short Course Swimming World Championship will be held in the city of Kazan (Russia) initially scheduled for December, although being Russia it could be brought forward a few months to avoid the cold so characteristic of this region. In addition, the best conditions for this are not currently given.
As we have been able to verify, the year 2022 is one of the most important in terms of sports presence. The wide variety of options that we can currently find on the market allow us to enjoy our sports bets and raise our profits to a higher level. Thanks to the specialized teams that we have that allow us to establish links with all kinds of online casinos, making the most of all our possibilities has never been so simple.
Tips to start betting on sports betting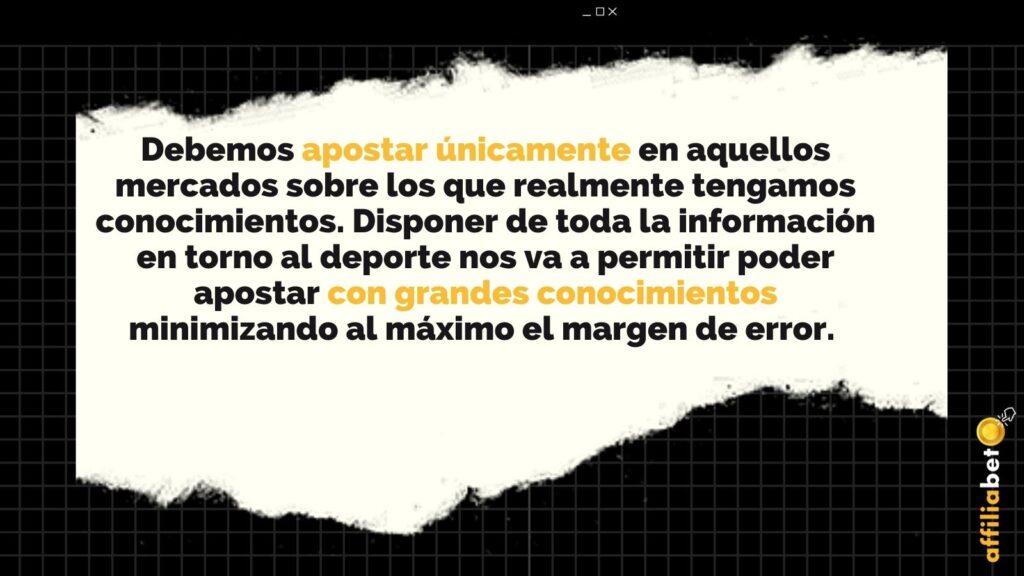 First of all, it is important to compare the sports betting houses that allow us to cover all the disciplines that exist in the market. We not only have to look at the odds they offer us based on the matches in which we are interested. We must also take into account all the existing conditions in order to obtain the desired return in each of the different sports modalities.
In addition, it is important that we learn the basic concepts in each of the existing alternatives in sports betting. In this way, we will always have all the guarantees that each of the movements that we are executing respond to a specific need. Guaranteeing maximum coverage of existing needs. We are facing a market in which it is not good to enter without taking into account all the concepts that exist. Through training we will be able to cover all existing needs.
We must bet only on those markets on which we really have knowledge. Having all the information about sport will allow us to be able to bet with great knowledge, minimizing the margin of error as much as possible. Only in this way will we be able to start betting on sports betting with great efficiency.
We must keep a cool head. In everything related to sports betting it is recommended that we have a cool head at the time of carrying out any movement. Due to the characteristics that sports betting has, we always have to take into account all the elements that exist around this matter. We must try to squeeze all the options in order to minimize any possible error that we have to face.
In addition to everything mentioned in this article, and to conclude, we must assess the options of live betting when it comes to carrying out this type of movement with which to be able to prioritize each bet we make as much as possible. In the event that we do not have all the possible information, live betting allows us to start viewing the match in question and check its development before starting with the bets. In this way, we will be able to gather a greater amount of information in order to ensure coverage of all existing needs at all times.
As we have been able to verify, there are many sporting events that have to be present in this 2022 sports agenda. With our help, you will always have all the sporting events identified and ready to be able to participate with them from the first moment. Do not miss the opportunity to rely on all the information we can offer you in order to discover all your needs. At Affiliabet we are already waiting for you to participate in our platform and discover all the options that exist in the market. Do not miss the opportunity and discover everything we can do with the aim of squeezing all the options you have.