The best way to understand affiliate marketing is with the example of one of our affiliates.
Carlos has a blog specialized in sports; where he shares with his followers his opinions, upcoming important events, results and, on occasion, also talks about sports betting. He also has other digital channels, such as his social networks, where lately he has "recruited" a good number of followers with whom he has a lot of connection and they follow him in all his publications.
A couple of months ago he started as an Affiliabet affiliate.
Within our platform he can choose from a large number of advertisers and materials to start his affiliate campaigns on his blog and on his social networks. The first results were not long in coming and now, in his second month of affiliation, his monthly commissions reach € 1,250.
Affiliate marketing is a recent marketing model that is carried out through digital means and that consists of brands or advertisers promoting themselves through so-called affiliates; bloggers or users of digital channels who recommend advertisers' sites and receive commissions for it.
It has grown so strongly that it has become a large, high-income industry.
Do you want to increase your income with affiliate marketing?

To increase your income thanks to affiliate marketing, you need digital channels from which to launch your campaigns, be affiliated with an affiliate platform to have advertisers' campaigns and have followers to recommend those campaigns.
The first thing is to decide from where you are going to launch your affiliate campaigns.
You don't have to have a website; you can do it from your social networks or instant messaging. In our previous blog we tell you all the advantages of each channel and some tricks to optimize your campaigns.
And, although the logical thing is that the channels that are more specialized are what manage to generate better traffic to advertisers, it is also true that websites, digital channels or news blogs in general are equally suitable to be a source of income thanks to the affiliate marketing.
Belonging to an affiliate platform is easier than ever with Affiliabet (register here); because you will have access to the best campaigns that will earn you the highest commissions. We are the number 1 manager in affiliate campaigns, sports betting, online gaming, finance and Forex for Spain and Latin America.
The first is to decide from where go to launch your campaigns of membership.
It does not do fault that have a web; you can do it from your social networks or instantaneous mail. It is our previous blog explain you all the advantages of each channel and some tricks to optimise your campaigns.
And, although the logical is that the channels that more skilled are are what achieve to generate a better traffic to the anunciantes, also is true that webs, digital channels or blogs of news in general are equally adapted to be a source of income thanks to the marketing of membership.
The to belong to a platform of affilation have it easier that never with Affiliabet (register you here); because will have access to the best campaigns that will report you the highest commissions. We are the managing number 1 in campaigns of membership, sportive bets, on-line game, finances and Forex for Spain and Latin America.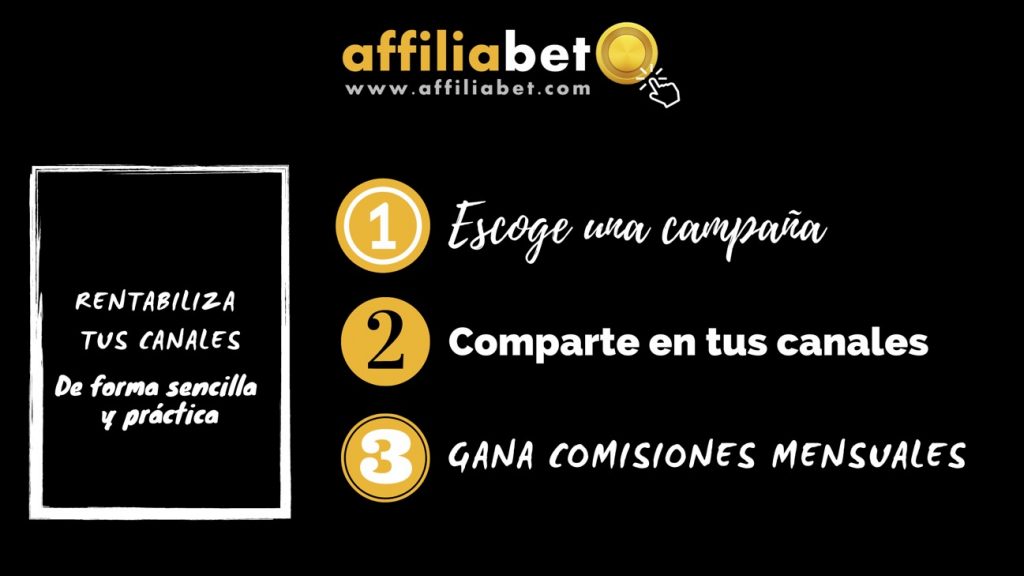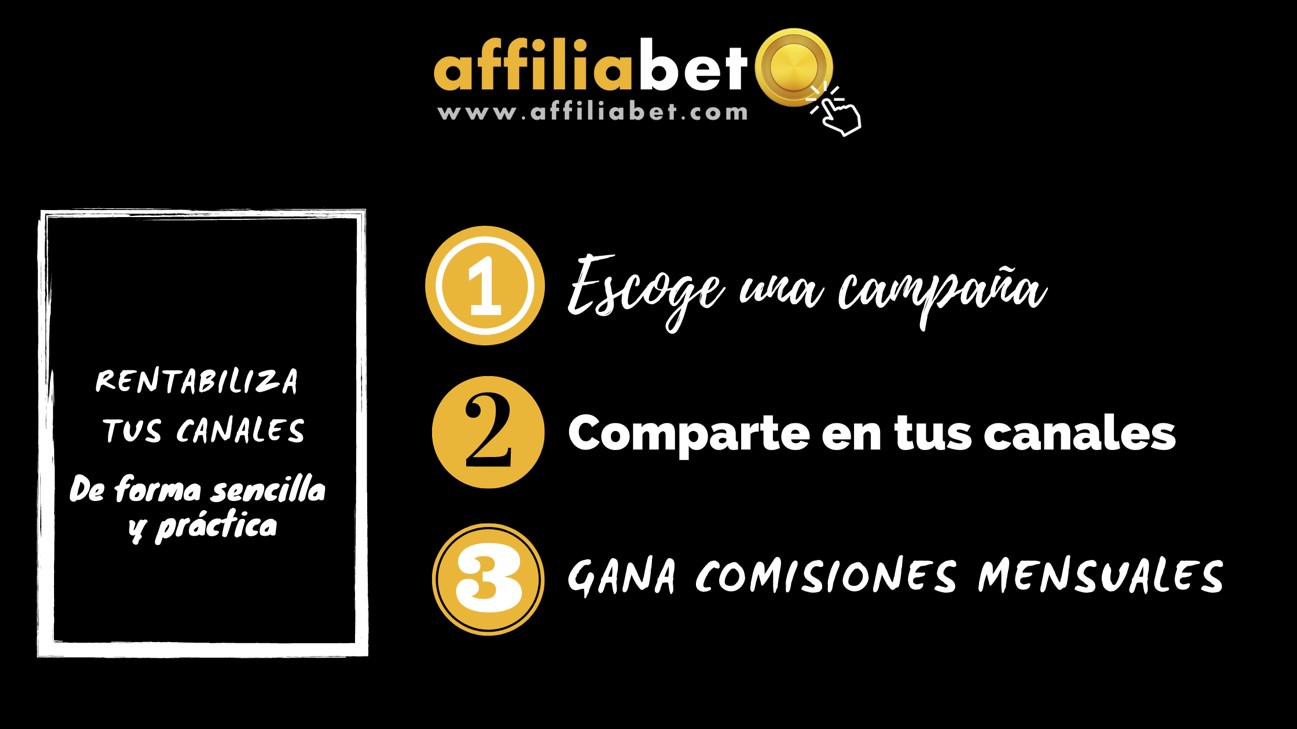 And finally, having a fan base is essential; because it is the followers that will make you earn money. The more traffic you have on your channels, the more chances you will have that those followers will become users of the advertisers of your promotions and therefore begin to generate commissions.
Making money from affiliate marketing is easier than you think.
Once you have the previous steps solved, the next thing is to start your first affiliate campaign. Your goal now is to refer the maximum number of players or users to the advertiser that you have chosen for your campaign. On the Affiliabet platform you have a wide variety of materials to make your actions more attractive and therefore more successful.
In your publications you will share this link so that your followers complete the corresponding action (registration, bet, game, etc).
They are personalized and unique urls to identify with you each new user that you manage to refer; so any action you take will be recorded and, if it meets the advertiser's requirements, will be assigned to your commission account.
Both the results of the links and the commission account are updated in real time, so you will know at all times how your campaigns are working.
They are more suitable for campaigns on websites, blogs or even email marketing. Because you will have the space to locate them and because you will be able to track the interactions that your followers make with the banners.
At Affiliabet you can download the official banners of the largest bookmakers, online gaming and financial operators, available in various sizes and designs.
Design for sociaal networks.
At Affiliabet we know that it is not only important that you insert your affiliate campaigns in the most attractive way; your social networks should also be attractive.
So in our materials for your affiliate campaigns you will also find graphic resources to personalize your digital channels.
Starting to receive commissions for your affiliate campaigns with Affiliabet is as simple as:
Sign up for Affiliabet (sign up here)
Select an advertiser and campaign or promotion.
Choose what materials you are going to insert in your dissemination channels.
Check your commission account to know the status of your campaigns and see how your income adds up.

If you want to venture into affiliate marketing and earn money online easily, join Affiliabet (sign up here)
REGISTER TODAY AND RECEIVE A
10€ WELCOME BONUS